Davante Adams Potentially Missing the Green Bay Packers' Tilt Against Undefeated Arizona Cardinals Puts Pressure on Several X-Factor Players to Step Up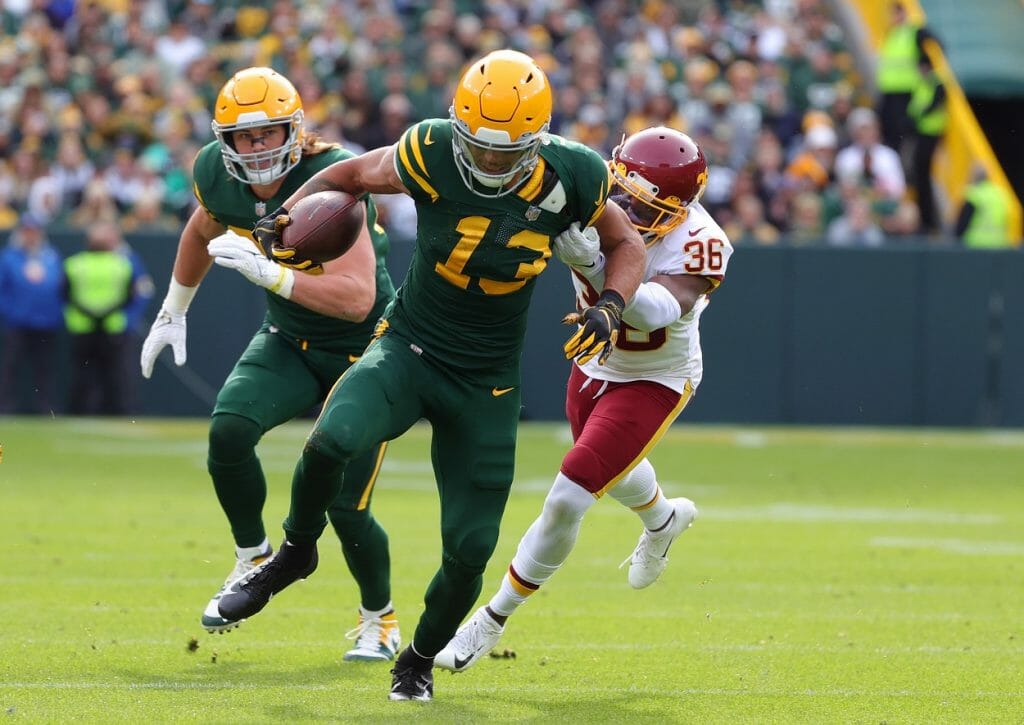 Davante Adams' potential absence for Thursday night's tilt against the Cardinals manages to put even more pressure on Packers X-factor players. The team has their work cut out in order to keep up with Arizona, which is currently riding a five game winning streak.
Davante Adams has been a big part of the Green Bay Packers' success this season. However, his potential absence from the tilt against undefeated Arizona Cardinals puts pressure on several x-factor players to step up.
Let's start with the bad news for the Green Bay Packers: Superstar wide receiver Davante Adams is in risk of missing Thursday Night Football and the Packer's crucial battle against the Cardinals, who are undefeated.
After testing positive for COVID, Adams, who is arguably the finest receiver in football right now, was put on the reserve/COVID-19 list Monday afternoon. The announcement came only hours after Joe Barry, the defensive coordinator, was placed in the same situation. While a wider spread is going to be a major issue for the Packers, losing Adams for this game is a major blow.
The Packers are already missing a number of key players due to injury, and if Adams isn't cleared in time for the game, Green Bay will be put under a lot of strain. Of course, the offender will be harmed and will have to respond proportionately. The Packers' defense will be placed under even more pressure, as they try to slow down an Arizona squad that averages 32.1 points per game thanks to head coach Kliff Kingsbury and quarterback Kyler Murray's leadership.
Adams will require two negative tests, 24 hours apart, to play on Thursday if he is both vaccinated and asymptomatic, two things we don't know. His condition is completely unknown as Green Bay departs for Arizona on Wednesday.
Green Bay will have to go outside the box to win, since it was always going to be difficult without Adams. The Packers deserve credit since they are a deep club that has won games despite missing important players throughout the season.
Several important players will have to stand up for the Pack, who are riding a six-game winning run and seeking to add to it while in the national spotlight.
If Davante Adams is unable to participate, the Green Bay Packers will need another strong performance from Allen Lazard.
Green Bay Packers' Allen Lazard #13 runs with the ball while being tackled by Washington Football Team's Danny Johnson #36 in the second quarter at Lambeau Field | Stacy Revere/Getty Images
Allen Lazard, dubbed the "Lizard King" in Green Bay, has spent much of 2021 as an afterthought in the offense.
Given his background as an undrafted free agent and practice squad player, the fact that he's even on the roster is remarkable. He's worked hard to carve out a place for himself in Green Bay's offense, and he'll have to show his value in LaFleur's system against a good Arizona defense.
Lazard has earned a reputation for himself in Green Bay as a relentless run blocker on the edges, and he'll need to keep doing so if the Packers are to succeed in the run game, as well as on wide receiver screens, which LaFleur likes to use. However, the 6-foot-5, 226-pound bruiser is far from a one-trick pony. He was a standout receiver at Iowa State, and he's shown in his brief NFL career that he can take advantage of chances when he's in Green Bay's scheme.
Lazard is a large wideout who runs clever routes, but he'll have to be a solid possession receiver on third downs for Aaron Rodgers, a job that Adams often fills for the MVP quarterback. Lazard can get open downfield and utilize his stature to his advantage, while not being the fastest receiver you'll ever see.
He grabbed six catches for 146 yards and a score in a game against the New Orleans Saints last season, averaging 24.3 yards per catch. He grabbed five catches for 60 yards and a score against the Washington Football Team last week.
If Adams is unable to play in Arizona, Green Bay will need another performance from Lazard similar to any of his last two.
Aaron Jones and A.J. Dillon will have to carry the load for the Packers.
The Green Bay Packers' Davante Adams #17 and Aaron Jones #33 celebrate against the Philadelphia Eagles at Lambeau Field | Quinn Harris/Getty Images
Controlling the speed of play, particularly the time of possession, is one of the most effective strategies to keep a strong offense off the field. The Packers are accustomed to opposition teams using this technique to get Rodgers off the field, but they'll have to do so against the Cardinals as well.
Aaron Jones is one of the best running backs in the league, and after seeing just six touches against Washington, LaFleur and the Packers will have to unleash him free in the desert. They seemed to be saving him for this very time.
The good news for Green Bay is that he is the sort of running back who can take over a game, and as a pass-catcher out of the backfield, he gives Rodgers a significant lift. This season, he's grabbed 26 of 28 targets for 186 yards and four receiving touchdowns. Jones has a 7.2-yard per-catch average, which will go a long way toward helping the Packers move the ball against the Cardinals.
A.J. Dillon, Jones' lighting, will have to be a significant part of Green Bay's game plan as well. He's a bruising 247-pound running back who goes straight downhill and is a major challenge for opposing defenders to tackle. For the Packers, he's a superb change-of-pace back, and LaFleur will have to use both him and Jones to manage the time.
Both LaFleur and Rodgers have a habit of throwing the ball too much at times, because why not with an MVP quarterback? They'll have to rein in that inclination this week, as ball possession and time management will be crucial.
It's time for you to shine once more, Eric Stokes is a writer and a musician.
Eric Stokes, a rookie cornerback, has been saddled with a lot of responsibilities early in the season. While it was evident that he would be given time to develop, a major injury to all-world cornerback Jaire Alexander has shoved the youngster into a starting job, and he has performed well for the Packers so far.
He'll have to perform again again against the Cardinals, who have far too many weapons.
Stokes will be defeated. That is unavoidable, and that is the reality of an NFL cornerback's existence. Even Alexander, who is known for his exceptional covering abilities, has been outplayed this season. With that said, Stokes has shown he possesses the speed and length to be a shutdown corner for a rookie. We've already seen him make plays, and we expect him to do so again.
The Cardinals have a deep wide receiver corps, with Christian Kirk and a resurgent A.J. Green both making plays in Kinsbury's offense. DeAndre Hopkins, though, is the star of the show, and Green Bay will have to depend on Stokes to at least make things difficult for the superstar wideout.
Assuming Stokes can keep Hopkins off the field, weaker cornerbacks like Kevin King (if he's healthy), Rasul Douglas, and Chandon Sullivan can concentrate on the supporting cast. That's a tall order for the rookie, but if he can step up and at least slow down Hopkins, Green Bay's defense will have a shot.
Green Bay can still win if the Packers' defense can slow Arizona down just enough to allow Rodgers and the offense a chance to stay up in a high-scoring battle.
ESPN and Pro Football Reference provided the statistics.
Davante Adams says there are only two ways to stop him, but he won't say which one.
Related Tags
davante adams 40 time
davante adams college